No matter which version of Aladdin you prefer, whether it be the animated Disney film, the real people Disney film, or the timeless original collection of Middle Eastern folk tales found in One Thousand and One Nights, or The Arabian Nights, you have to admit: it's a great story!
And now you can take your kids on a Quest!
For this Quest you will need:
All printable worksheets (see below)
Pencils
String
26 Clothespins
Permanent marker
Colored Pencils
Construction paper (recommend yellow for at least one part)
Marble
Flat cardboard or pan
Masking tape
Thick paper (like watercolor paper or cardboard)
Paint (watercolor or acrylic)
Scissors
Glue stick
Pre-Quest Prep:
The home-educator should read through the Quest in advance, to be sure he or she has everything necessary and to-hand. Print off all necessary worksheets, one per student, and prepare them as required.
Place the activities around the room. Kids can complete the activities in any order. Each number and letter with corresponding activity is listed below. I do recommend you start with designing the magic carpet (#1), giving it time to dry so it can be used in the later activity (#6).
In this Quest, kids will learn: sight words, reading, addition, number recognition, sequencing, creative construction, fractions, art, prepositions, physical movement, pentominoes, and writing.
The Quest
Aladdin needs your help! What should he do to win Princess Jasmine's heart?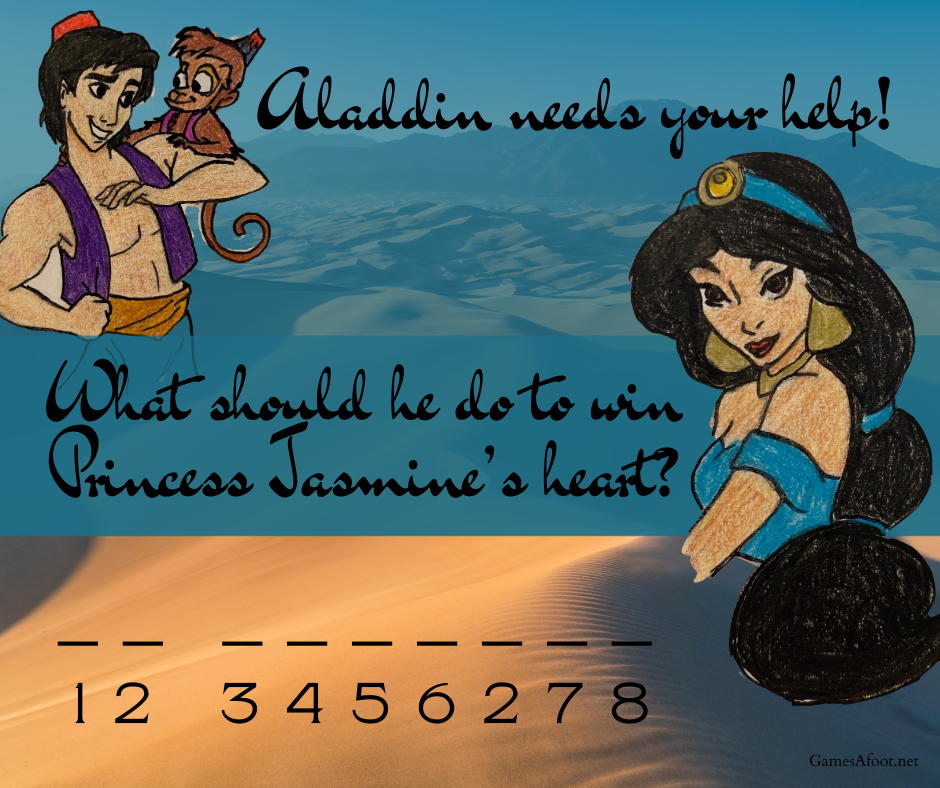 1 (B)—Design a Magic Carpet
Take masking tape and place it in a design criss-crossing over sheets of paper. I recommend using something thicker than normal printer paper for this, whether that's construction paper, matte paper, watercolor paper, or cardboard. Then have the kids paint each of the sections.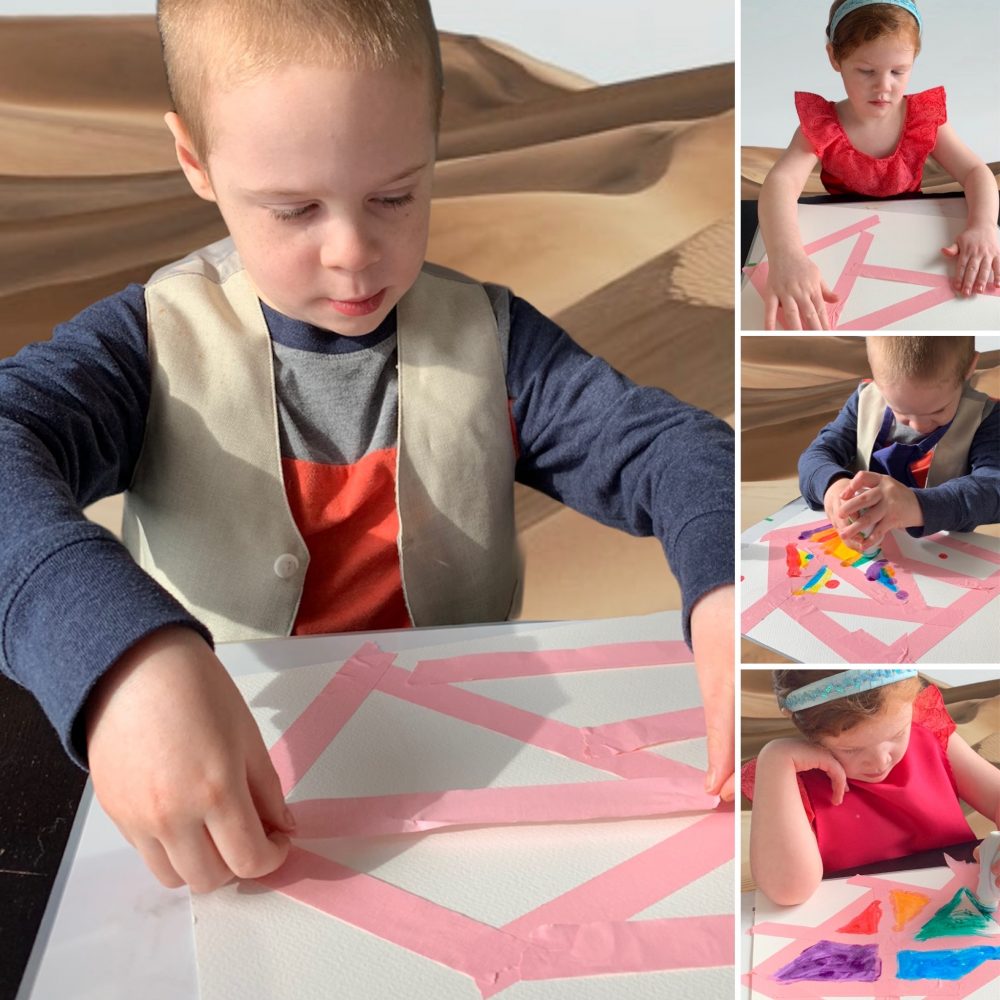 After the paint has dried, remove the masking tape to reveal your finished piece! To complete the carpet effect, cut a strip of colored paper (we recommend yellow) along the edges to look like tassels and glue it to the edges of your print art.
We ended up doing it two different ways. Blue cut a strip of paper, rolled it and then cut along it. Bird cut four hourglass shapes and then cut tassels along one side of each. She then glued them to the four corners.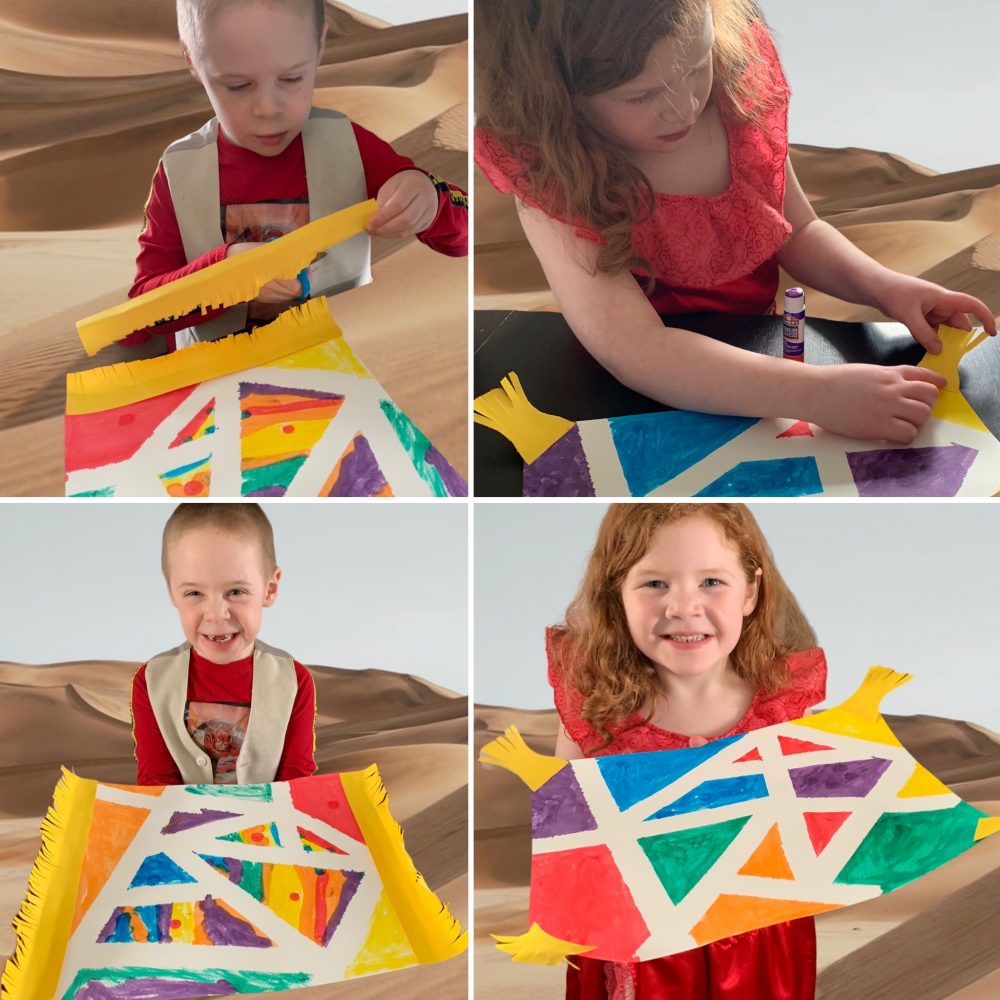 2 (E)—Color by Number Lamp
Save and print the worksheets below. Because we needed a little more practice with recognizing the second half of base 10, I made the color by number using 5-9.
I also made a second version using addition, for those who needed more of a challenge.
Bird did the numbers, Blue did the addition, and both turned out really great! Bird said they looked like stained glass windows…
3 (H)—Hot Lava Game
It's a Real Problem! I always laugh when we play with other kids and one of the first games they want to play is the "Don't Touch the Lava Game." It's universal!
We gave this game a homeschool twist by adding string and clothespins with letters on them. On 26 clothespins, write the letters of the alphabet. Have the kids help you if you can!
Then, I criss-crossed the string around the living room, adding cushions to the ground as "safe spots" from the "lava."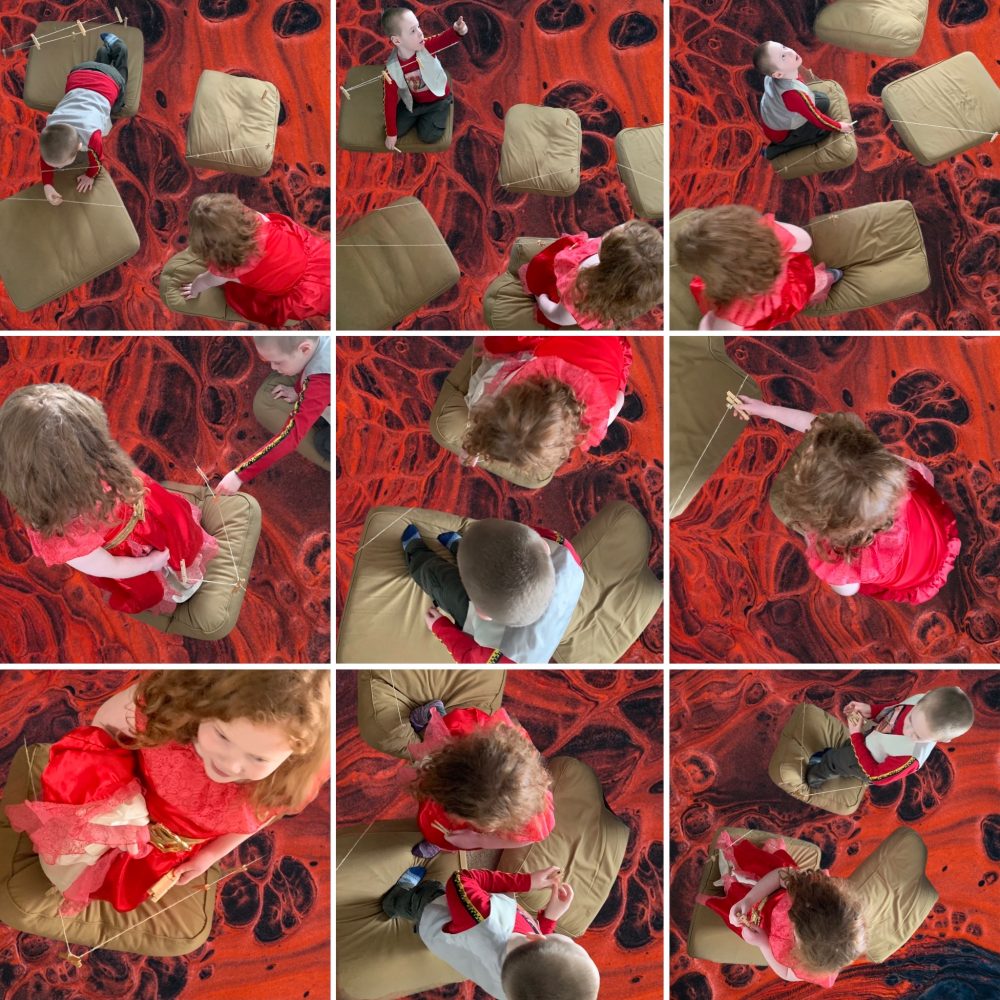 I gave the kids a word, and they had to spell that word by collecting the letters without touching the ground!
You could use any sight words your kids need to practice spelling, or for fun, we used these Aladdin words:
Over
Under
In
Out
Carpet
Lamp
Street
Tiger
Free
Cave
Sand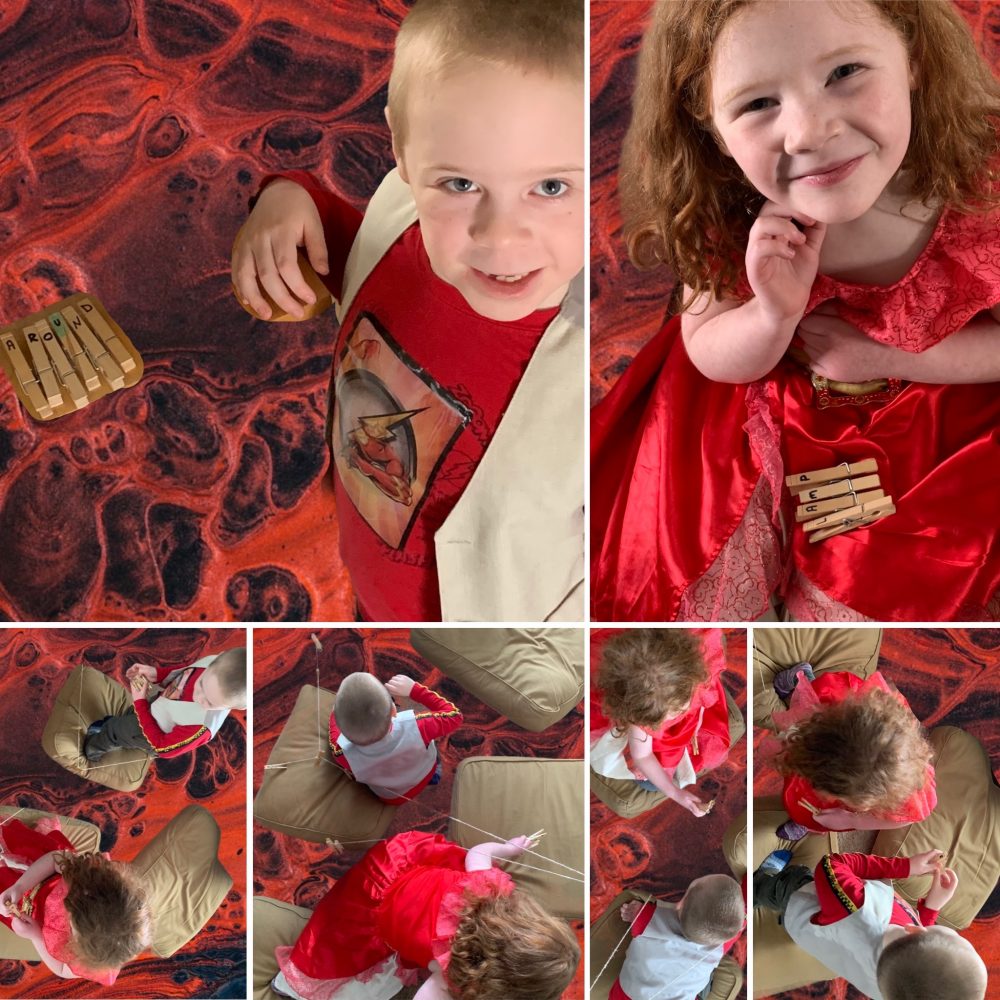 4 (I)—Get Aladdin out of the Cave of Wonders
Using strips of construction paper, tape them onto a firm board or piece of cardboard so they make an archway in different places. Using a marble to represent Aladdin, get him to roll through the arches in a specific order.
Write numbers on top of the arches to indicate the order. Then trade with someone and see if they can get the marble to go through in the same order!
5 (M)—Bread Fractions
Save and print the worksheet below. Help Aladdin and Abu divide the bread between the hungry street urchins.
6 (S)—Flying Carpet
Pretend you have a magic carpet (if you've done the art project, you could use that carpet!) and practice prepositions by moving in the following ways around things in your house.
Over
Under
Through
In
Out
Around
Between
For added fun, do this while listening to some fast-paced music!
7 (L)—Rajah
Rajah is trying to track down Jasmine through the city of Agrabah. Use the Pentominoes to make a map of Agrabah and a path through the streets from Rajah to Jasmine. 
Save and print the worksheets above. Cut out the pentomino pathways according to color. Have the kids puzzle the pieces together to connect Rajah to Jasmine.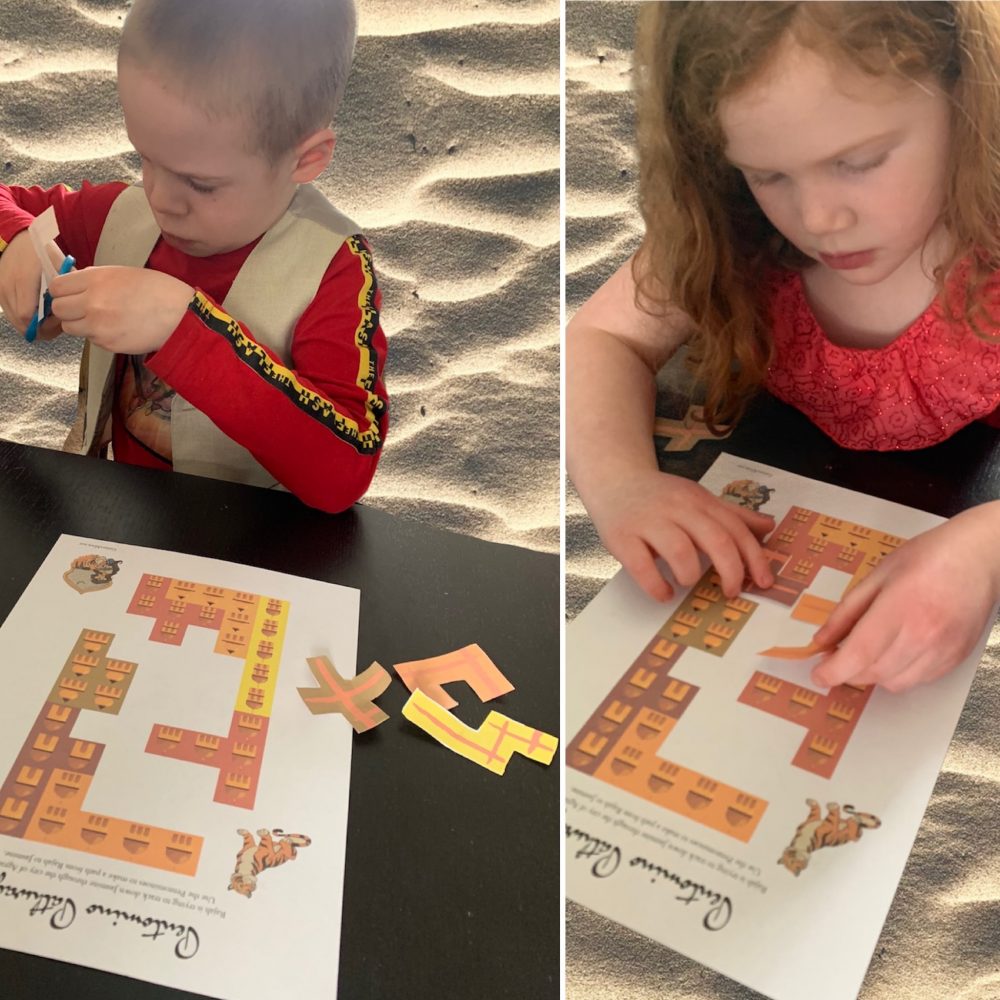 8 (F)—Genie
If you could have three wishes, what would they be? Write and/or draw a story about your answer. You can use the printable below or your own paper.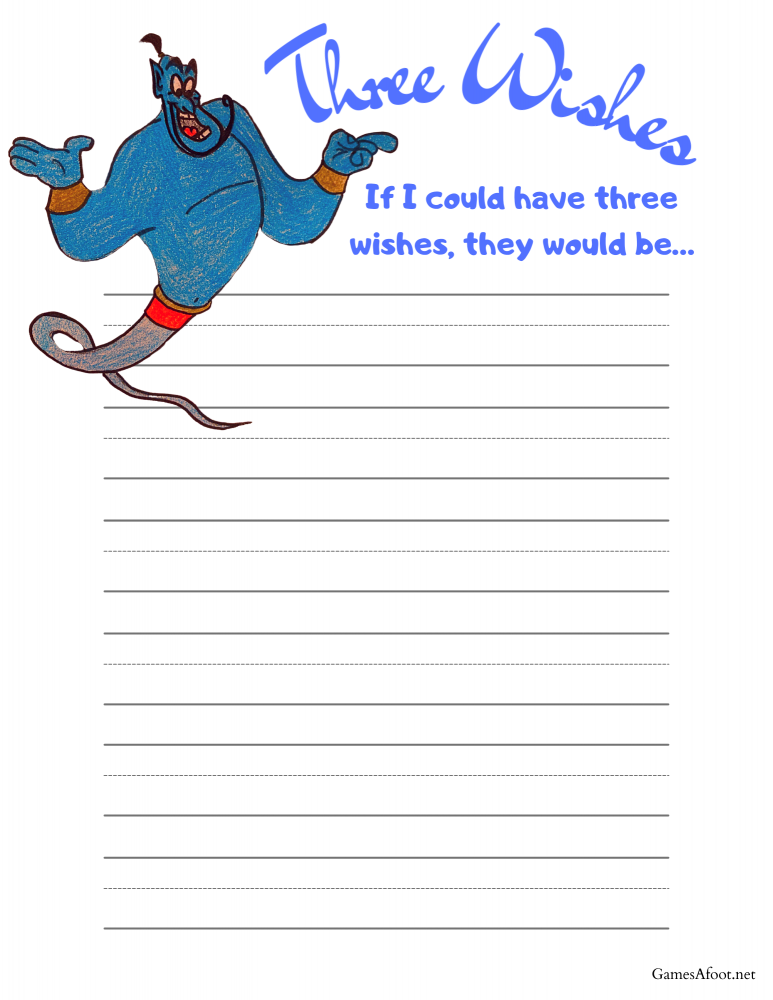 Answer: BE HIMSELF
Thank you for joining us on our adventure through Aladdin! Tell us in the comments how it went, and be sure to tag us on Instagram (@gamesafootquests) if you share pictures from your Quest!
Happy Questing! 
Special thanks to Beth Rizzo for drawing all the perfect Aladdin pictures!