What better way to celebrate Star Wars Day (May the Fourth be with you!) than with a Star Wars Quest??
For this Quest you will need:
All printable worksheets (see below)
Plain paper
Colored pencils
Pencils
Markers (for Bingo, we used M&M's)
Paper towel tubes
Pipe-cleaners
Variety of felt sheets
Pom-poms
Brads (optional)
Scissors
Glue
Pre-Quest Prep:
The home-educator should read through the Quest in advance, to be sure he or she has everything necessary and to-hand. Print off all necessary worksheets, one per student.
In this Quest, kids will learn: problem-solving, writing, reading, adding, subtracting, counting, creative construction, and scientific observation.
To Begin:
I began by helping the kids to dress up Star Wars-style with whatever we had to hand. Blue chose a lightsaber toy and Bird decided she wanted a blaster, like Leia, so she used a play golf club and her imagination. I also twisted her hair into buns, like mine, though I never got a picture of myself—what mom ever does? 😉
Once they were dressed, I led them out to the living room. The only Star Wars character toys we have (so far) are Muppets dressed up as Star Wars characters—something from our trip to Disney World back before kids, but bought in anticipation of kids. (Please tell me we're not the only ones to do this!)
A long time ago, in a galaxy far, far away…
[Can you hear the theme music or is that just me? 😉]
In the living room, they found the Millennium Falcon with…
Yoda
Hello, Yoda, I am. Know me you may not, but you will! Hehehe. Bad news, I have. Your friends have been kidnapped by Darth Vader: Han Solo, Chewbacca, Luke Skywalker, Princess Leia, Obi-Won Kenobi, even the droids, C-3PO and R2D2. Free all of them, you must, then back to your ship to escape. May the force be with you, always.
Players must find each of the hidden prisoners and free them by completing the activity associated with them. Watch out for Darth Vader and the Stormtrooper! They're looking for you!
(My kids have only seen Episode IV: A New Hope, so they haven't met Yoda yet…)
After that, they had to find each character (taking turns doing so) where they'd been captured (i.e. hidden on a chair behind the "bars") and do the activity to free them! Right now, I've got a four- and six-year-old who are each working on different things, but share many common interests. To that end, I tried to find activities that they could do together, or take turns solving. They were allowed to free the characters in any order they wished. (The printable characters I used for writing each quest activity came from rockyourhomeschool.net. They're actually meant to be taped onto toilet paper tubes, so maybe next time I'll do that so they stand up!)
The first character they found was…
Princess Leia
Princess Leia found a code but she doesn't understand the message. Help her decode the message to free her!
The code and decoder was found at rockyourhomeschool.net.
R2D2
R2D2 is malfunctioning! Fix his circuits by breaking his high score of 10 on Bop-It!
I don't know where we got this R2D2 Bop-It game, but there's some fabulous alternate ideas here at playpartyplan.com.
Luke
Help Luke sort out these lightsabers to free him!
This math game was found at royalbaloo.com.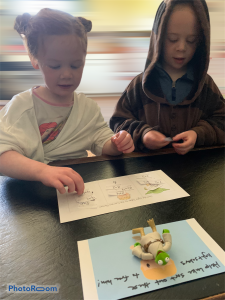 Obi-Won
Obi-Won is stuck in the Bingo Hall until he wins a game. Help him win at least once to free him!
Sounds like perpetual h-e-double hockey sticks, right? 😉 The kids actually love Bingo, probably because we always play with M&M's. This version of the game was found at rockyourhomeschool.net.
Chewie
Chewie is having trouble counting. Help him find the right numbers to free him!
This fill-in-the-blank counting activity comes from royalbaloo.com.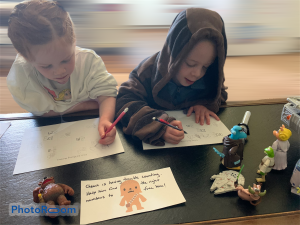 Oh no! A Darth Vader maze!
In between certain tasks, Darth Vader would surprise them with a maze that they had to solve to move forward. The kids ended up having one of them "fight him" while the other solved the maze—perfect! I found these at rockyourhomeschool.net.
C-3PO
C-3PO fell apart again. Put him back together by creating your own robot.
For this activity, I gave them each a paper towel tube, pipe-cleaners, and pieces of felt along with scissors and glue, and they made their own robots! This activity was the one the kids said was their favorite. 🙂
Han Solo
Darth Vader cut up these portraits of people he doesn't like. Help Han fix the portraits to free him!
This activity was found at rockyourhomeschool.net. It's actually a "copy this drawing" grid activity, but I found it was even more fun to cut them up and have the kids line the pictures up again. I told them when they're older, I'll cut the images into squares—even more difficult—and have them tape them back together!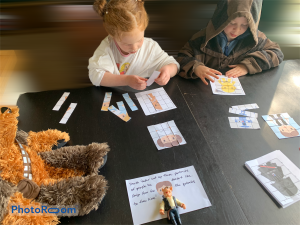 Millenium Falcon
Once they'd gathered all the characters, they opened the Millennium Falcon, only to find they had one more big task to complete before they could escape!
Almost there! Sort and match the constellation cards to prepare for the jump to light speed. Then, punch it, Chewie!
This final activity was found at teachbesideme.com. It was by far the most difficult activity. I probably should have just chosen a couple constellations for them to match. I ended up having to do half of them to give them fewer possibilities. I thought it was still really cool, as it teaches you to see the constellation patterns in the stars!
Success!
To finish up, we had a photo booth! I hung up a green sheet and had the kids stand in front of it for the pictures. Then I used this amazing free app called Photo Room to add Star Wars backgrounds behind them.
The backgrounds were free downloads for Zoom meetings, but the app also had some great free space stock photos that would have worked.
I hope you had fun reading about our questing adventure! I'd love to hear your own ideas in the comments, and look forward to creating another one of these for the kids soon! Happy Questing!
If you'd like all the Star Wars Quest tasks typed up and in one place, here you go! Just save this image and print!