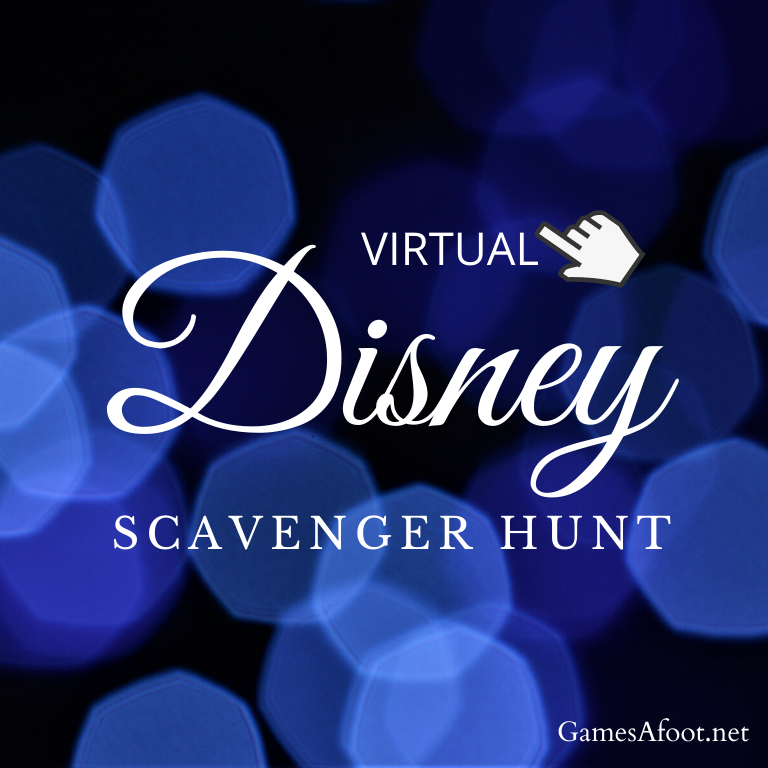 I've been on the hunt for ways for the kids to play online with friends and family since we're missing our socializing (yes, even I, as an introvert, am missing interaction!).
To that end, we came up with this Virtual Disney Quest to play online using Zoom or FaceTime or whatever works best. This particular Quest is more scavenger hunt, but the kids enjoyed it so much they're already asking me to make another one!
Copy and paste the list below into the first column on a spreadsheet (Excel or Numbers). Then label the headings of the other columns with the names of the players joining you. It's that easy!
Virtual Disney Quest List
Snow White: an apple
Fantasia: a broom
Cinderella: a shoe
Alice: a tea cup/mug
Peter Pan: a fairy light
Lady and the Tramp: spaghetti
Sleeping beauty: a rose
Sword in the Stone: a sword
Mary Poppins: an umbrella
Jungle Book: a banana
Robin Hood: something green
Winnie the Pooh: honey
Little Mermaid: a fork
Beauty and the Beast: a book
Aladdin: a carpet
Lion King: something yellow
Pocahontas: a leaf
Toy Story: a toy
Mulan: something red
A Bug's Life: a bug
Tarzan: a notepad
Emperor's New Groove: music
Treasure Planet: money
Finding Nemo: a bath item
The Incredibles: vacuum
Cars: a car (you can just show us the car outside on your screen)
Ratatouille: a cooking utensil
Tangled: a frying pan
Brave: a bear
Wreck-It Ralph: a game
Frozen: ice
Zootopia: a blueberry
Moana: a necklace
*I only included the movies my kids had seen up to this point, so you could definitely add more or take some off based on what your family likes to watch!
How to Play
The way we worked scoring was if you were the first person to show something, you got two points. Everyone else got one point once they showed the item. This worked very well, since it meant I, as moderator, only had to notice the first person to show the item, and after that I just gave whoever else found something a point. After every fifth item, I revealed the score, so everyone knew where they stood.
We decided if you couldn't find the item listed, you could show something else that reminded you of the movie, then you could make an argument for it to earn one point.
It took about 30-45 min. We gave people a minute per item, and then some time chatting in between while I tallied up, etc., so it was a grand total of about an hour. If you're on a free Zoom account, you could limit the game time to the 40 minutes you have available and go as quickly as possible, tallying only at the end and texting out the final scores.
The kids had a blast doing this, and I think the adults did, too! It was nice to do something on Zoom that the Littles could join in on.
Tell me in the comments if you play! I'd love to hear how it goes and what you changed! Happy questing!