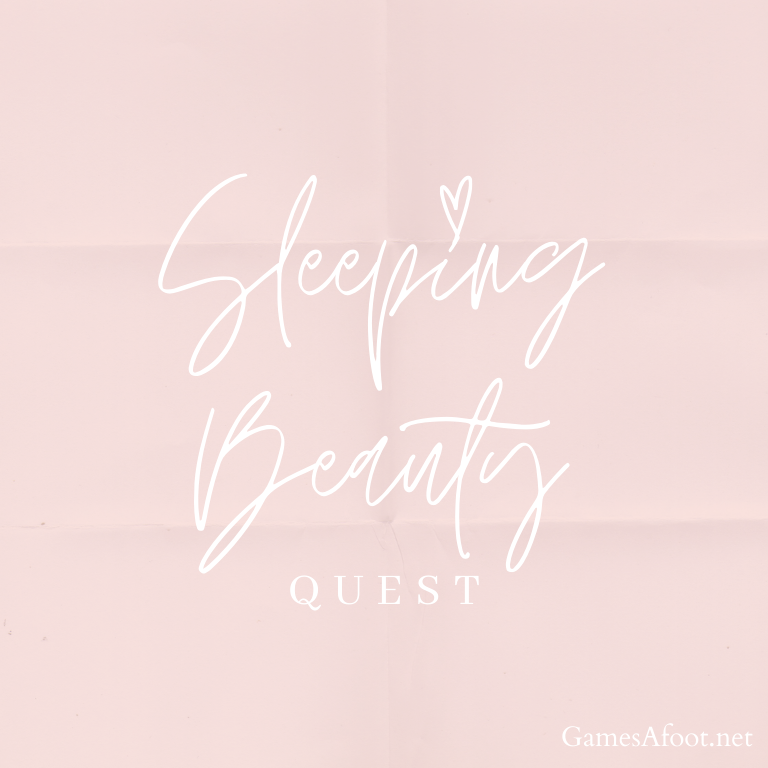 Your quest: to save Sleeping Beauty from the tower!
For this Quest you will need:
All printable worksheets (see below)
Plain paper
Colored pencils
Pencils
Globe
Scissors
Ingredients for a birthday cake (pick your favorite recipe to follow)
Scotch tape
Pre-Quest Prep:
The home-educator should read through the Quest in advance, to be sure he or she has everything necessary and to-hand. Print off all necessary worksheets, one per student.
In this Quest, kids will learn: dance history, comparing and contrasting, reading, writing, ballet terminology, world traditions, cultural differences, geography, cutting skills, baking chemistry, measuring, problem-solving, art, creative construction, science, physical movement, and Biblical truths.
To Begin:
We began by watching the full Tchaikovsky Sleeping Beauty ballet. This particular one was filmed in Melbourne, Australia. I absolutely loved the costuming!
The Ballet
Watching the ballet was a nice, simple way to begin the day. During and after watching, we discussed what was the same and what was different about the ballet vs the Disney movie version that we are most familiar with. I had Blue write our thoughts into columns on a piece of paper. I also asked them to listen closely to the music: Did any of it sound familiar? Much of it was used in the Disney version, including the songs they added lyrics to!
Here's our list, if you'd like a jumping-off point: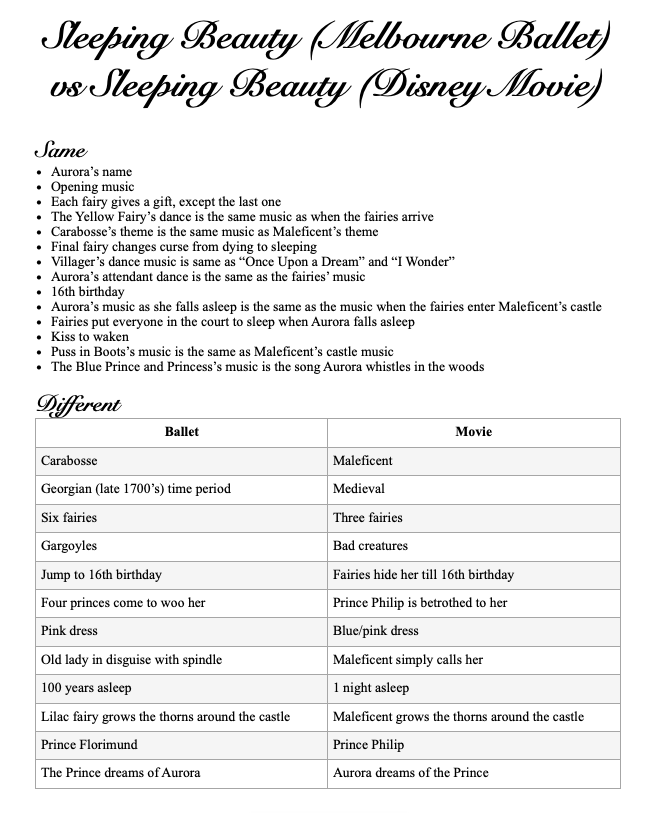 Ballet Discussion
We then discussed some ballet terms. For us, we were able to call our aunt on FaceTime, who is a ballet teacher! If you don't have that luxury, I recommend checking out this link to a discussion of Ballet Terms found at homeschoolshare.com.
The Story
The story of Sleeping Beauty is a fairy tale that's been re-told many times in many different ways. To provide a storyline for our Quest, we read the story (the Grimm Fairy Tales version) as a map to tell what would happen next on the Quest, basically acting out the story throughout the day.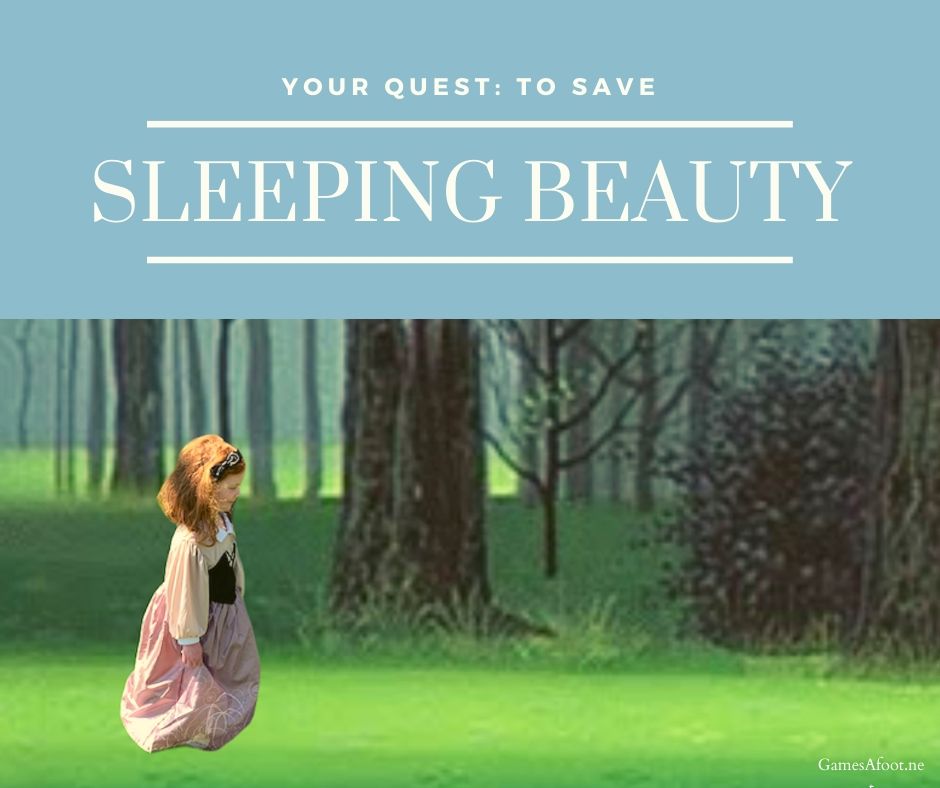 It Begins with a Birthday
We read through some fun traditions from around the world found here at homeschoolshare.com. As we read, I had my six-year-old find each country. I would tell him the continent, and then he had to find the right continent, and then the country on it. It was great globe work! The kids had a lot of fun talking about the different traditions.
We finished by talking about what traditions we have, and which new ones we might want to incorporate into future birthday celebrations.
Growing Up
We continued reading through the story. She grows up, so the next thing we made was a Sleeping Beauty paper doll. If you have a boy or horse-lover, the Disney site also has Samson, Prince Philip's horse. Unfortunately, I couldn't find Prince Philip this time around.
Since part of the paper doll was "making her dress," we of course followed that with the best part:
Bake a Birthday Cake!
Don't forget to crack the eggs before folding them in. 😉 Our favorite quick and easy cake recipe is this one at smittenkitchen.com, you don't even need a mixer! (We like to add maraschino cherries to the top of ours as the decoration.) Baking is a very efficient homeschooling task, as it teaches multiple things at once: reading, following directions, measuring, fractions, chemistry, and it tastes good, too!
Sleeping Beauty Rest
At this point, it was lunch time, so while the cake baked, we had lunch, and then took a Sleeping Beauty rest/naptime/quiet time. 😉
Once Upon a Dream
The next part we talked about was Briar Rose singing in the movie (and the music was in the ballet!) about "once upon a dream." I asked: What is a dream? According to the Merriam-Webster Dictionary, a dream is "a series of thoughts, images, and sensations occurring in a person's mind during sleep." We also talked about why Prince Philip looks familiar to her. It's most likely because she saw him as a child, which gives her memory a dream-like quality. I then asked: Why do we dream? If you have Netflix, check out the Brainchild episode on dreams. To follow up on this discussion, I had them draw a picture of a good dream they had once.
Crown the Princess
She then learns she's a princess. Everyone needs a crown! My kids had the brilliant idea of drawing jewels for added decoration. We talked about patterns while they colored.
Unfortunately, the crowns were not very big once we taped them together. For Bird, I was able to pin hers to her hair without taping the back, but that wouldn't work, of course, for Blue. So in the end, we decided to dress up their stuffies instead! They made a very cute king and queen, I think!
Shield and Sword
After Aurora falls asleep, we jump to the prince. This part was really important to me because I wanted to talk to the kids about what the fairies say in the Disney movie: "Arm thyself with this enchanted shield of virtue, and this mighty sword of truth. For these weapons of righteousness will triumph over evil."
I had my six-year-old find Ephesians 6 and read verses 10-17. (If you're looking for a great way to teach the books of the Bible, I recommend the Wee Sing song found here. There's New Testament and Old Testament. I still sing these songs when looking for the right book!)
Celebrate!
And then we saved the princess from the tower! To celebrate, we played Disney charades to practice sharing what we're thinking without using any words, just like a ballet. If you don't own a Disney charade game, a good place to start for a printable version is here at darcyandbrian.com.
And that was our VERY full day of Sleeping Beauty! If that sounds like too much, you could always divide the day into two, which is what I will probably do next time, pausing when she pricks her finger and saying in the morning we'd wake the princess. 😉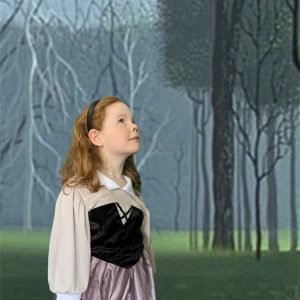 Love the Sleeping Beauty costume Bird is wearing? You can get your own at littleadventures.com. This is not an affiliate link—I get nothing from this except the joy of passing along the information that this company makes AMAZING costumes for Littles! They're washable, not scratchy, and absolutely ADORABLE!
I'd love to hear from you in the comments if you do this quest! What things did you do differently? Do you have any other ballet or Sleeping Beauty activities we could incorporate next time? Happy Questing!