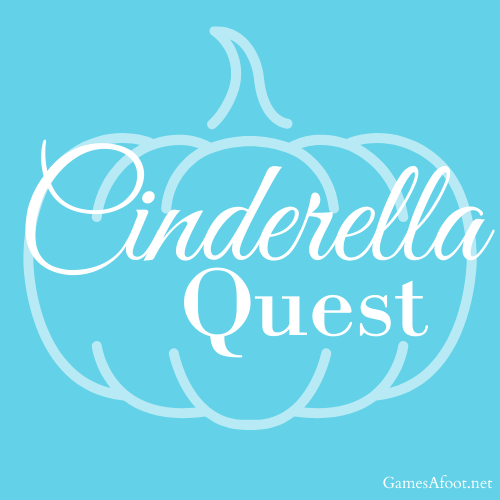 With pumpkins all about, what better time to do a Cinderella Quest?!
For this Quest you will need:
All printable worksheets (see below)
Alphabet Letters (printable, magnetic, bath, all will work)
Broom
Masking tape
Pencils
Eyedropper
Food coloring
Water
Pumpkin
Scale
Ruler
Colored pencils
Plain paper
Blindfold
Pre-Quest Prep:
The home-educator should read through the Quest in advance, to be sure he or she has everything necessary and to-hand. Print off all necessary worksheets, one per student.
In this Quest, kids will learn: reading, writing, comparing and contrasting, spelling, problem-solving, counting, scientific observation, measuring weight and height, clothing history, dancing, reading a clock, prepositions, measuring length, and organization from largest to smallest.
To Begin:
The story of Cinderella is practically timeless, with versions that stretch back to 7 BC. Begin by reading or viewing a couple different versions of the story. Some of our favorites include Rogers and Hammerstein's Cinderella musical, the book Dinorella, and the book Cinderella by Barbara Darlin and James Marshall. You could also read the version by Charles Perrault (this is the version credited with introducing the fairy godmother, the pumpkin carriage, and the glass slippers) and the Grimm version (but keep in mind that this version includes some graphic content, i.e. chopping off heels and toes and pecking out of eyes).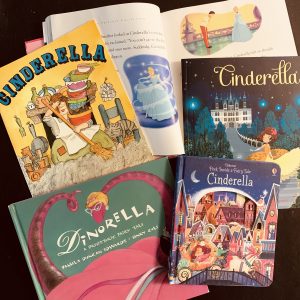 Next, have your kids compare and contrast two different versions of the Cinderella story using this Venn diagram.
Now it's time to tell the story yourself!
Help Cinderella find a happily ever after by completing the following activities in order of the story.
Maid
Cinderella was treated like a maid by her sisters. Talk about how we should treat people with respect. You can find some great inspiration on Pinterest.
Next, sprinkle any kind of letters about on your floor—whatever you have on-hand will work (i.e. magnetic, bath, or print the ones below to use).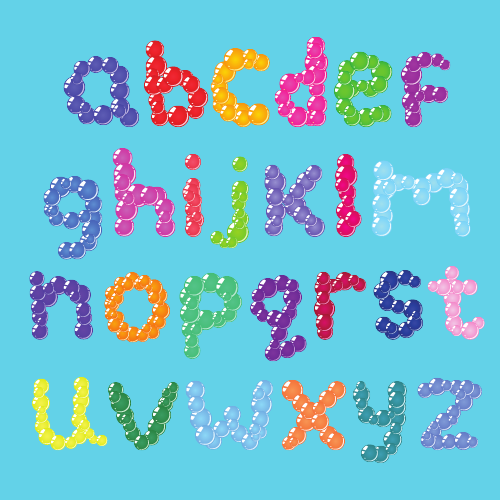 Tape a box somewhere on the floor. Have your child sweep the letters into the square, calling out the letter names as they do. You could alternatively have them spell sight words or their name, having them only sweep in the letters they need.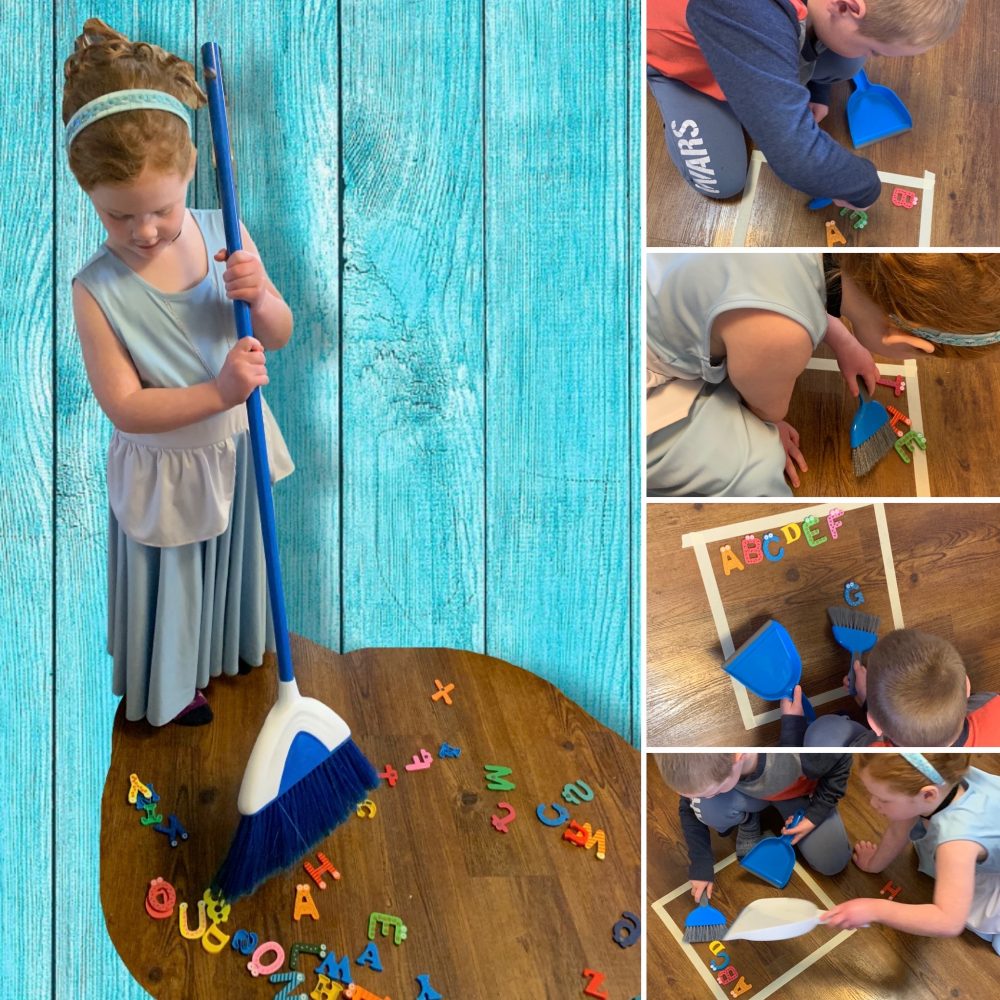 Invitation
Cinderella received a letter from the castle in the mail but she's having trouble deciphering what it means! Help her decode the invitation.
Fairy Godmother
Cinderella's stepmother and stepsisters went off to the ball without her, but her tears have brought some help! Find out how many tears were needed by completing this Eye Dropper Dot Counting activity from teachbesideme.com.
Pumpkin Carriage
The Fairy Godmother is looking for the perfect pumpkin to turn into a carriage for Cinderella. Using the pumpkin investigation worksheets found at naturalbeachliving.com, help her pick the perfect one! You will need to use your own pumpkins if you do the science lesson at the beginning. If you choose to only do the dot-to-dot and/or parts of a pumpkin you just need the printables. (Do NOT do the maze yet! That's later!)
Dress
The Fairy Godmother is designing the perfect dress for Cinderella. Study dress design through the years. You can quickly find examples on our Pinterest board, Quest History, or do a search for more specific ideas. Cinderella's story is timeless, so let your kids have fun picking their favorite design and making it their own.
Off to the Ball
Travel through the pumpkin maze found once again at naturalbeachliving.com to get Cinderella to the ball!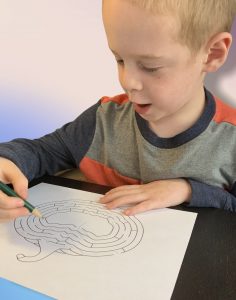 Dance
Take a moment to teach your kids to waltz! (You can find videos to help you on YouTube if you don't know how.) Or at least put on a song and take a dance break. 😉
Watch the Clock
The Fairy Godmother said the spell would break at midnight, so watch the clock carefully! Play the game "Blast Off to Hour Space" found at aroundthekampfire.com to practice reading the clock. (She has lots of ideas for teaching kids how to tell time so pick the game best suited to what your child needs to practice.)
Home Again
Midnight has come and Cinderella must find her way back home, but in the dark it's difficult to know the way. Blindfold one of the kids and have the other give directions to get from one location to another. We set up some obstacles in the way and had the kids go from the couch to their bedroom. If you want them to practice prepositions, set up certain places they must go over, under, around, and through. If you want them to practice left and right, set up obstacles to force them to choose one of those directions.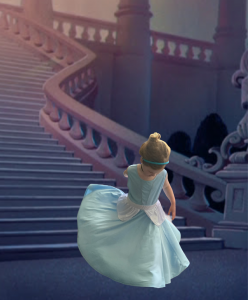 The Glass Slipper
The prince has come to the house in search of Cinderella. Measure these feet with a ruler to see which one will fit in Cinderella's glass slipper. Print the image, then cut out each foot, or pair of feet. Have the kids put the feet in order from largest to smallest. They'll need to measure some of them to tell if they're slightly bigger or smaller. Hint: Cinderella's feet are the tiniest!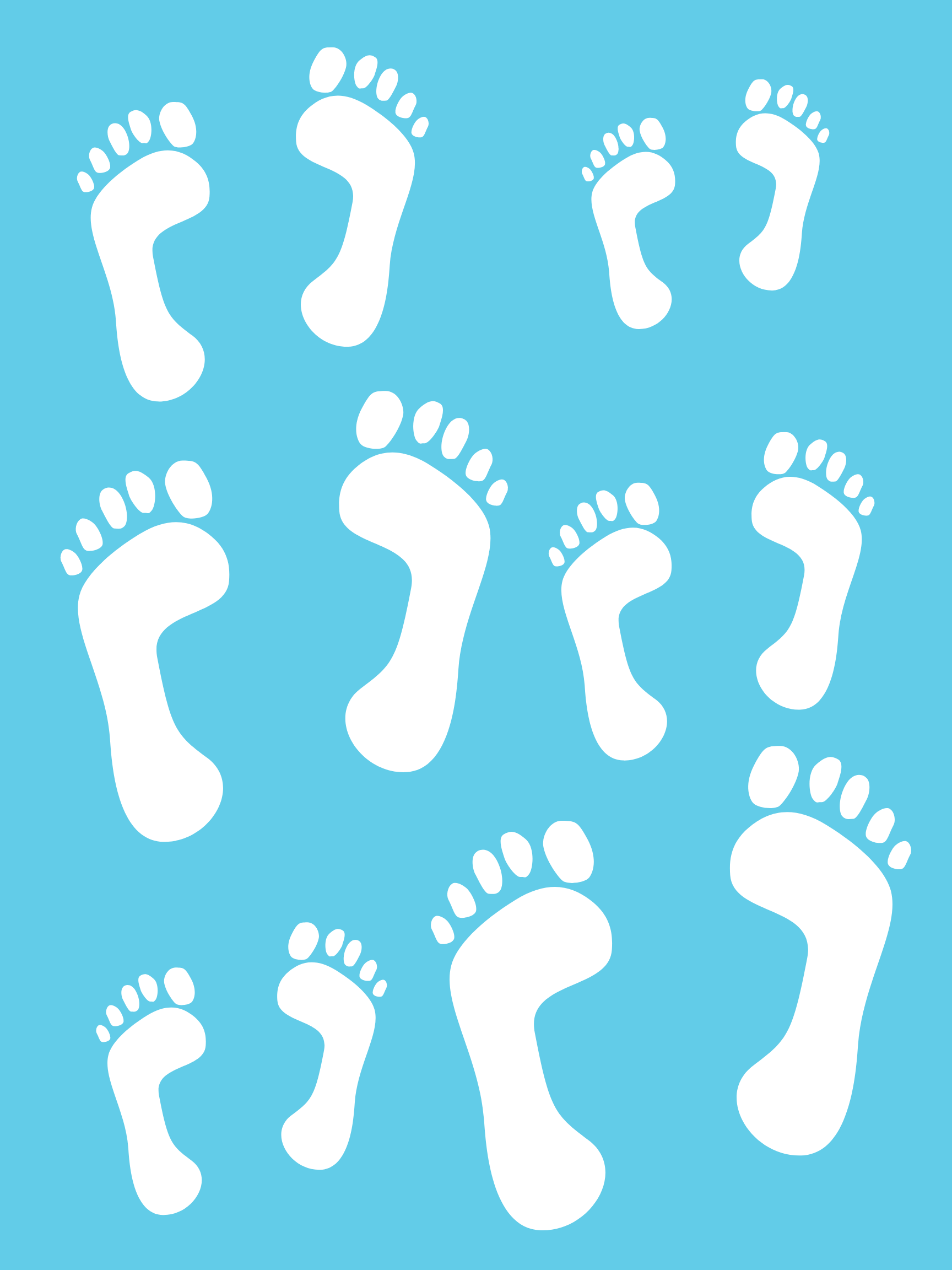 Cinderella thanks you for getting her to her happily ever after!
We hope you enjoyed this Quest! Be sure to let us know in the comments what you did differently and what you liked!
Happy Questing!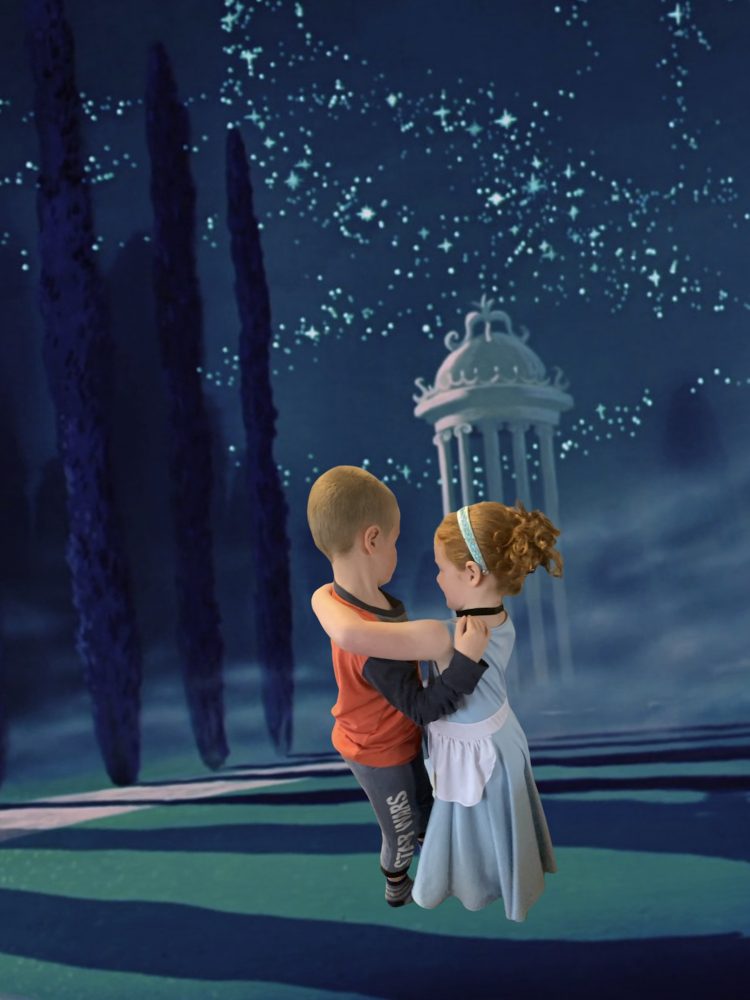 If you like the Cinderella dress Bird is wearing, check out littleadventures.com! I am not affiliated with them, but we love their dresses so much, I strongly recommend them!