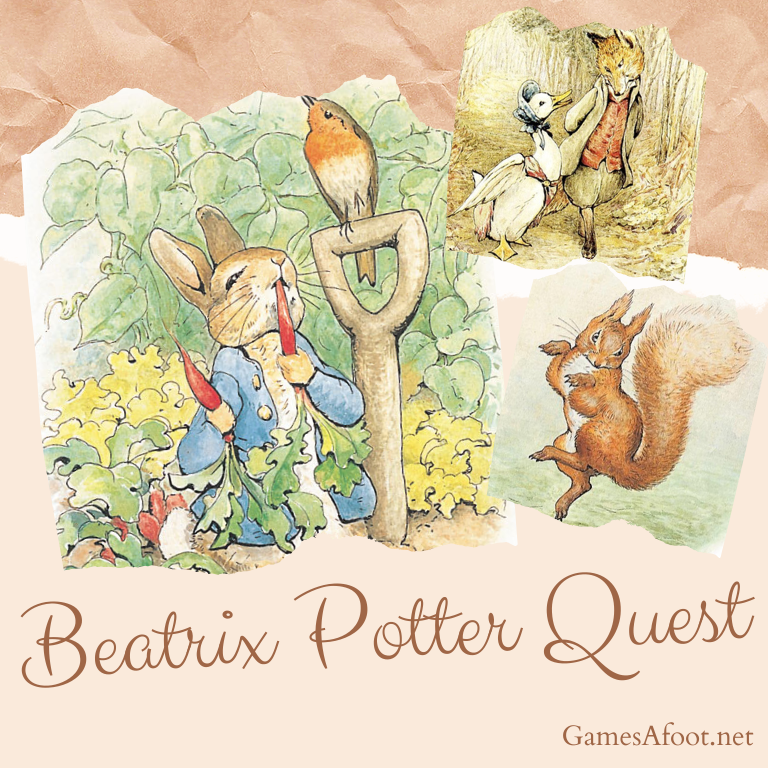 Beatrix Potter's stories are timeless tales full of the most adorably illustrated little critters.
There's so many possibilities when it comes to a Quest regarding her books that it was very difficult to limit my choices. What we landed on was a ton of fun, however, and a great way to interact with just a few favorites.
For this Quest you will need:
All printable worksheets (see below)
Beatrix Potter books (see below)
Felt sheet (with coat outlined on it)
Scissors
Buttons
Needle and thread
Plain paper
Colored pencils
Pencils
Markers of some sort (coins, paperclips, or laminate the Guess Who boards and use dry-erase markers)
Pre-Quest Prep:
The home-educator should read through the Quest in advance, to be sure he or she has everything necessary and to-hand. Print off all necessary worksheets, one per student.
In this Quest, kids will learn: reading, writing, basic math, counting, sewing, spelling, drawing, animal observation, problem-solving, scientific observation, and creative storytelling.
To Begin:
Because Beatrix Potter's books and illustrations are in the public domain, you can find the books online if you don't own them yourself. I've included a link to the Project Gutenberg location for each book below, if you need them, which includes the beautiful illustrations. You can also find them for free on any e-reader including Nook, Kindle, and iBooks.
The books you'll be reading include: The Tale of Squirrel Nutkin, The Tale of Peter Rabbit, The Tailor of Gloucester, The Tale of Benjamin Bunny, The Tale of Mrs. Tiggy-Winkle, The Tale of Mr. Jeremy Fisher, and The Tale of Jemima Puddle-Duck.
I set up our Quest with pauses at each station to read the book associated, but if you'd rather do a tea party or simply sit and read them all to start, that's a great idea, too!
Start by saving and printing this image.
Then cut out each station card and place them around the room with the coinciding activity. To make it simpler, you could also write the corresponding letter in pencil on the back for once the kids have completed the activity.
The goal of your Quest is to solve Squirrel Nutkin's riddle!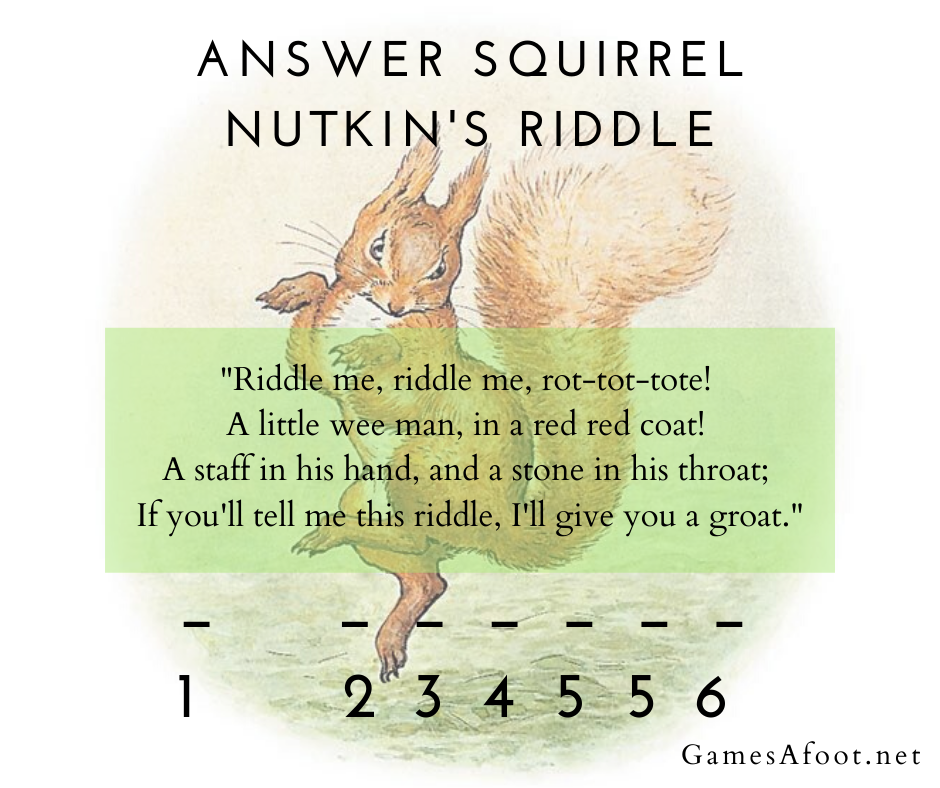 Begin by reading The Tale of Squirrel Nutkin. Then, let the kids choose which activity they'd like to do next! They can be done in any order. The letter answer to the riddle for each activity is listed first.
Reallifeathome has a huge packet of free Peter Rabbit printables to coincide with the book. Choose the activities that are best for your child. We did the roll and race carrots, word search, copywork, and counting carrots in the garden.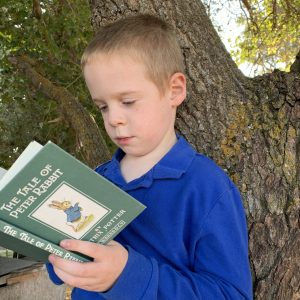 Help the tailor of Gloucester by sewing buttons onto a coat. Begin by cutting a basic coat shape from felt. If your kids are old enough, draw the outline of the coat and have them cut it out themselves. Now, sew on buttons. Let the kids have fun with this and put them wherever they want. It doesn't have to be perfect or true-to-life—the more creative, the better! 🙂
For Benjamin, we did two activities found at TeachBesideMe.com: Garden ten-frame math and the garden spelling mat.
Beatrix Potter's illustrations come from years of drawing creatures in their natural habitat. Draw a picture of an animal you have near your house. For us, we have many options (dog, sheep, peacocks, chickens, ducks, guinea fowl…), but if you don't have that luxury, simply copy your favorite illustration from The Tale of Mrs. Tiggy-Winkle.
Complete this Mystery Science activity to learn why frogs ribbit. After watching the video, we did the fascinating activity learning how to identify frogs by their croaks!
Does this story remind you of another one? Little Red Riding Hood! Write and illustrate your own version of the well-known fairy tale with new characters—animal or otherwise.
Now you should have all the letters to answer Squirrel Nutkin's riddle…
Answer: A CHERRY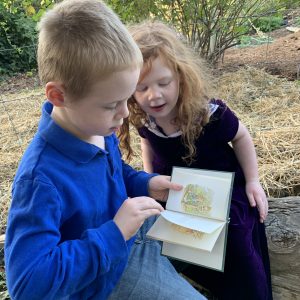 Finish by playing Beatrix Potter Guess Who!
Simply save and print the images below to make two different boards. You'll need two copies of each board in order to play, but I made two different boards so you have a few more choices.
To Play
Set up the matching two boards in a way that ensures the two players cannot see each other. We used large books with the covers up. Then, using markers of some sort (coins, paperclips, or laminate the boards and use dry-erase markers) first mark your choice of who you "are." Begin asking questions to eliminate the choices of who the other might be in order to guess who they "are." It is perfectly alright if you both happened to choose the same image—in fact, we've found it's usually more difficult then because you don't expect it! Help your kids to understand that broader questions are better to ask. For example, "Do you have more than one animal in your image?" is a better question than "Do you have a bunny wearing a green hat in your image?" which is so specific it would only eliminate one choice rather than several.
I hope you enjoyed this Quest through just a few of the marvelous books by Beatrix Potter. If you'd like to do a more in-depth study of her work, I recommend checking out this complete unit study at homeschoolshare.com.
We'd love to hear about your favorite Beatrix Potter book in the comments below. Happy Questing!