Part Two: Some Reading Required
Summer is a great time to take a break from homeschooling along with all the other kids in the world. But you never have to stop learning!
That's when we pull out our board games! Board games are interactive learning opportunities that are already organized and created for you. Almost every board game out there teaches turn-taking and strategy, and usually some form of reading and/or math (or at least dice-reading).
I absolutely love that our kids are old enough now to play "Real Games" with us—meaning not just "Kids Games" like Snakes and Ladders and Candy Land, but games that require strategy and not just the luck of the dice.
I began making this list and then quickly realized I had so many suggestions I could divide it into two posts: No Reading Required and Some Reading Required.
So here's our second list of top board games we enjoy playing with our four- and six-year-old that DO require reading! However, do note that the games below are still playable without reading so long as there are readers at the table (Mom or Dad or older siblings).
Please note: There are no affiliate links below. These are all board games we've bought and enjoyed for years so this is our unbiased, un-paid-for opinion. The links will take you to BoardGameGeek.com where you can read more about the game description and where to buy it.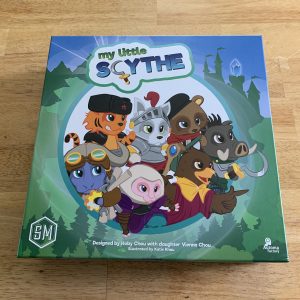 If you're a gaming family and you're looking for a fabulous way to introduce your kids to your gaming world, Little Scythe is it! It's got everything, including rewarding the actions of those who prefer to be friendly rather than aggressive! Although mostly non-reader friendly, there is some reading required.
Teaches:
Problem-solving
Decision-making
Reading
Adding and subtracting
Number recognition
Higher/lower numbers
Special abilities
Map movement
Cooperation
From the Cranium family of games, this one has cards that require reading, though if you don't mind sacrificing your ability to guess in order to assist the non-readers, everyone can play. There's a little bit of everything in here from Pictionary to Trivial Pursuit to Charades.
Teaches:
Reading
Number recognition
Sculpting
Acting
Timer
Trivia
War with food. We've been playing this game simplified for about a year, though now that my six-year-old can read, we're playing the full game with all rules. Originally, though, we'd removed the variable player abilities and brought the game back to its most basic element: the card game War. This is a great (and fun with the food art) way to teach higher and lower numbers. CAUTION: BE SURE TO GO THROUGH THE CARDS AND REMOVE ANY YOU DON'T FIND APPROPRIATE FOR YOUNGER PLAYERS.
Teaches:
Reading
Number recognition
Higher/lower numbers
Variable player abilities
Rampaging monsters are taking over the world! This game is fun because of all the physical elements. Again, we simplified the game in order to play with our non-reader by removing the variable player abilities. But that still leaves all sorts of good fun!
Teaches:
Building
Gross motor skills
Meeple manipulation
Movement
Variable player abilities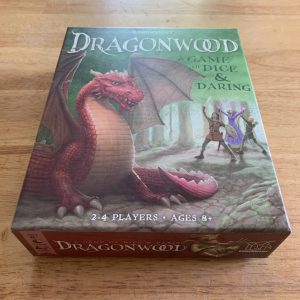 There's really only some minor reading involved in this one, but I went ahead and included it in this list, rather than the other one because of it. Again, so long as someone is willing to read the card's ability for them, the rest is symbol-based and can be figured out.
Teaches:
Adding
More than/less than
Dice-reading
Special abilities
This list does not include make-your-own games like Charades or HeadsUp! which could be made using images for non-readers or sight words for beginning readers. There's so much learning to be had with games it's difficult to narrow the playing field!
I'd love to hear what games you enjoy with your younger kids so we can add to our repertoire! Be sure to share your suggestions in the comments, and check out our previous post about the Best Homeschooling Board Games, Part One: No Reading Required. Happy questing!