Who says school has to be boring??
We decided this year to level up with our "game-ified" homeschooling year by creating Homeschool Character Sheets just like you would for an RPG. Check it out!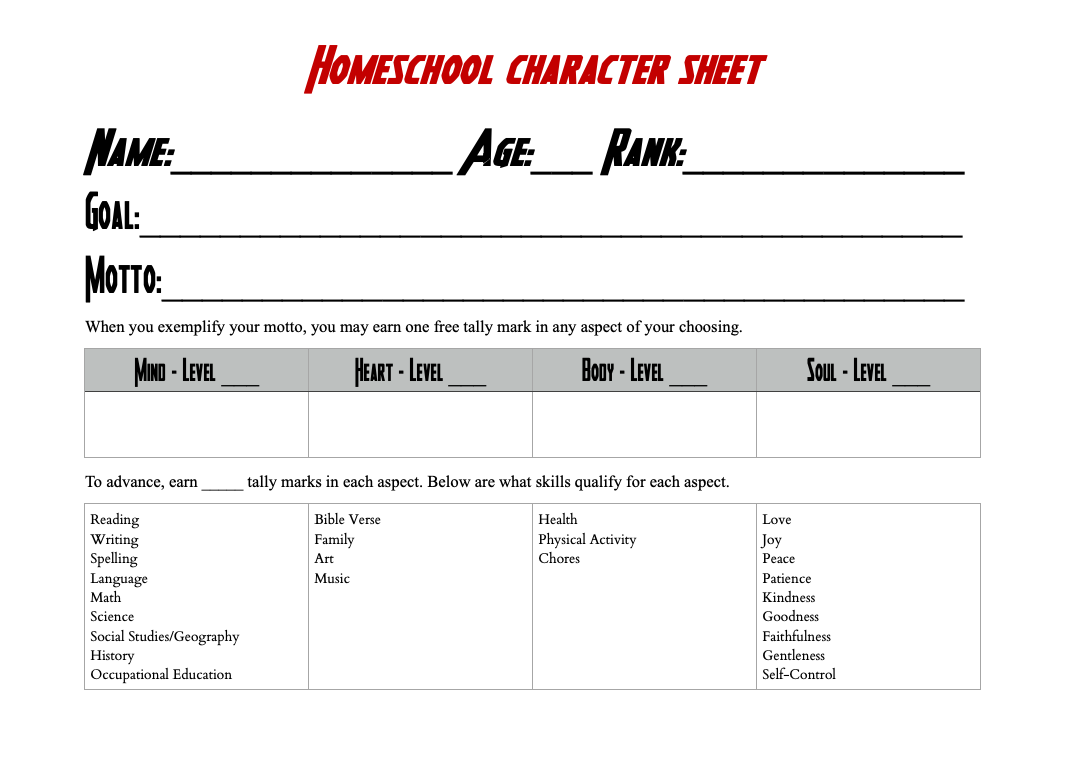 Fill out these parts with a pen.
Name—Have your child write their name because it's fun to see how it changes over the course of the year.
Age—Age when your child starts. Next year, they'll start over with a new character sheet.
Rank—(Leave blank for now.)
Goal—What is your child's learning goal for the year? What do they hope to accomplish? Examples include: I want to be able to read One Fish, Two Fish all by myself. I want to be able to solve 100 math problems in 5 minutes. I want to be able to name all fifty states and their capitals.
Motto—What is your child's character motto for the year? This should be something big picture about how they will be kind to others. Examples include: I want to always choose to put others first. I want to find ways I can help others. I want to encourage others.
Keep in mind, whenever your child exemplifies their motto, they may earn one free tally mark in any aspect of their choosing!
On a separate sheet of paper, draw a basic character image.
Ask your child to pick an animal or person that they'd like to be. Have them draw the basic outline. Don't add lots of clothes or equipment; these will be added on as they level up throughout the year. (Of course, if it's a person, better put a swimsuit on underneath for modesty's sake. 😉 )
If they end up completely covering their creation at some point, they can always draw a new character to add to on another sheet of paper.
This needs to be a separate sheet, not the back of the main sheet, because your child will be adding to it throughout the year.
Now, slip both sheets into a dry-erase folder.
Every child begins the year as "Student" in the Rank section. Fill this in now with a dry-erase marker. They will level up as they complete skills in each aspect.
Every day, when your child accomplishes one of the necessary skills listed under each aspect, place a tally mark in the corresponding box with a dry-erase marker.
Explanation of Aspects
I've divided the list of skills my kids will be working on every year into four aspects: Mind, Heart, Body, and Soul.
In order to earn tallies under each aspect, they must complete a skill that corresponds to advancement in that aspect, as listed on the sheet. I will attempt to give them opportunities to earn tallies in each aspect every day. This may mean that some days because we do a lot of school work or a lot of outdoor play, they earn twice as many Mind tallies as they do Body tallies, or vice versa. They don't need to level up equally, and most likely will not.
These twelve skills are taken from the list of required subjects to be taught to homeschoolers in the state of Washington:
I added the next four for personal reasons:
Physical Activity— Although the state may feel this goes under "health," I want to make sure my kids do something active every day.
Bible Verse— My kids will be memorizing a Bible verse each week for their AWANA meetings.
Family— Doing something nice for someone else, being respectful and polite.
Chores— Family chores.
The last nine are the Fruits of the Spirit, as found in the Bible, as I'd like my kids to think about how they can live out each of these throughout the week:
Love
Joy
Peace
Patience
Kindness
Goodness
Faithfulness
Gentleness
Self-Control
Kids will advance by fulfilling the number of tally marks required to level up.
I've left this number part blank. You could either set a standard base of ten tally marks, or begin with five and increase by fives as the child levels up to make it increasingly harder to level up.
For example, I had my kids hit Level One in all aspects with just five tally marks in order to show them how the process worked. But they did it so fast I'll now require ten tally marks before advancement.
It all depends on how quickly you'd like your child to advance. If they need to advance more quickly for some encouragement in their lives—make it easier! The beauty of the sheet is its customizability. 🙂
Once your child has fulfilled the required number of tallies, they level up!
Level Up
When your child levels up in one aspect, let them add something to their character drawing. Pull out the sheet and let them draw on it permanently.
For example, Bird started with a drawing of a red panda (of course!) and then added some princess shoes, a hat, a dress, and some gloves when she advanced to Level One in each aspect.
Once your child is at the same level across all aspects, for example, Level One in Mind, Body, Heart, and Soul, they can pick out a reward coupon.
You can find a ton of great ideas and ones for free to print on Pinterest. Try to pick ones that meet your child's love language. If you don't know what that is, check out this great article at FamilyFelicity.com.
Rank Increase
Then, at certain levels across all aspects, let your child's rank increase.
Ranks advance as levels advance.

Level 10 in all aspects = Apprentice
Level 20 in all aspects = Knight
Level 30 in all aspects = Duke/Duchess
Level 40 in all aspects = Prince/Princess
Level 50 in all aspects = King/Queen
If these rank levels don't inspire your child, pick ones that will! Maybe let them change their animal character along with their rank increase. Again, it's all customizable and up to you and your child to make the character sheet work the best for you.
Celebrate!
At the end of the year, take a picture of your kid with their completed character image(s)! Be sure to share with us on Instagram and Facebook by tagging us: @gamesafootquests.
Congratulations! You've made it! You can rest in the knowledge your kids have worked on all that is necessary throughout the year!