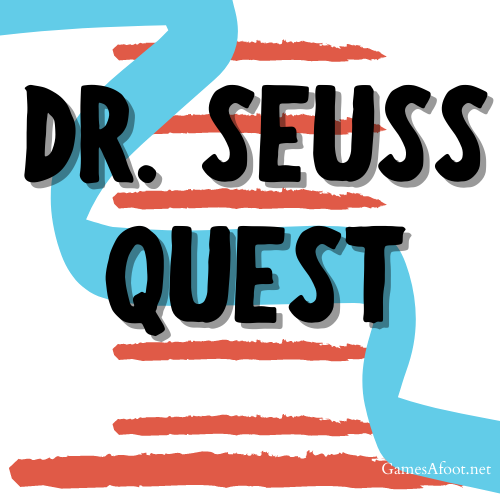 Don't forget Seuss's birthday is March 2!
When it comes to Dr. Seuss, there's far too many activities to choose from to make a Quest! You could probably do a complete Quest for each book (and I may do so in the future), but below I've compiled a complete list of optional activities, each coordinated with a Dr. Seuss book.
For this Quest, you'll only need six of the proposed activities to solve the problem. That's enough for one day, especially as you'll be reading each book at each station. Choose the Dr. Seuss books you have on-hand.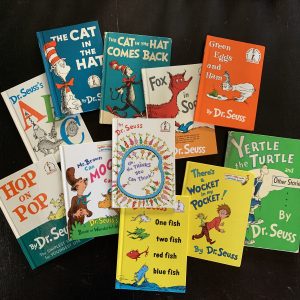 For Blue and Bird, I laid out all the books they could choose from and then did the activities that corresponded with the books they chose. The ones they didn't choose I saved to do the Quest again with different activities. Win-win!
Pre-Quest Prep:
The home-educator should read through the Quest in advance, to be sure he or she has everything necessary and to-hand. As you'll be choosing which activities to complete for this Quest, simply look through the list and choose the activities you like, or based on what craftables you have available. Print off all necessary worksheets, one per student, and prepare as required. 
In this Quest, kids will learn: problem-solving, sight words, reading, alphabet, letter recognition, physical movement, cooking, writing, creative storytelling, graphing, math, creative construction, and art.
The Quest
Thing 1 and Thing 2 have stolen and hidden the stripes from the Cat's Hat. Help the Cat put his Hat back together!
Save and print the hat and stripes below. The kids will need to complete each activity to obtain a stripe for the Cat's Hat. Collect all six stripes to complete the Hat! 
(If you only have time for four or five, simply remove stripes until you only have enough to coordinate with the number of activities you'll be doing.)
Activities Listed By Book:
As which activities you choose to do will determine what you need to complete the Quest, the list of needed supplies can be found after each book activity.
Dr. Seuss's ABCs: Magnet Puzzles
It's easy to make puzzles from old book pages, and you can often find Seuss books for very cheap at thrift stores. (I collect old, torn children's books so I can do this activity and many more to upcycle!) We made these with magnet sheets. You place the old book page on the sticky side, then have your child cut out the page and magnet however they want to make it a ziggy-zaggy puzzle!
You don't have to use magnet sheets. You could just cut the pages and piece them back together on contact paper, or laminate the pages before cutting to ensure they last through multiple uses.
The best thing about making your own puzzles is that they can grow with your child. Start with 4 pieces, then 8, then 16, then 32, then 64!
Old copy of Dr. Seuss's ABCs (or any Dr. Seuss book)
Magnet sheets (optional)
Laminator or contact paper (optional)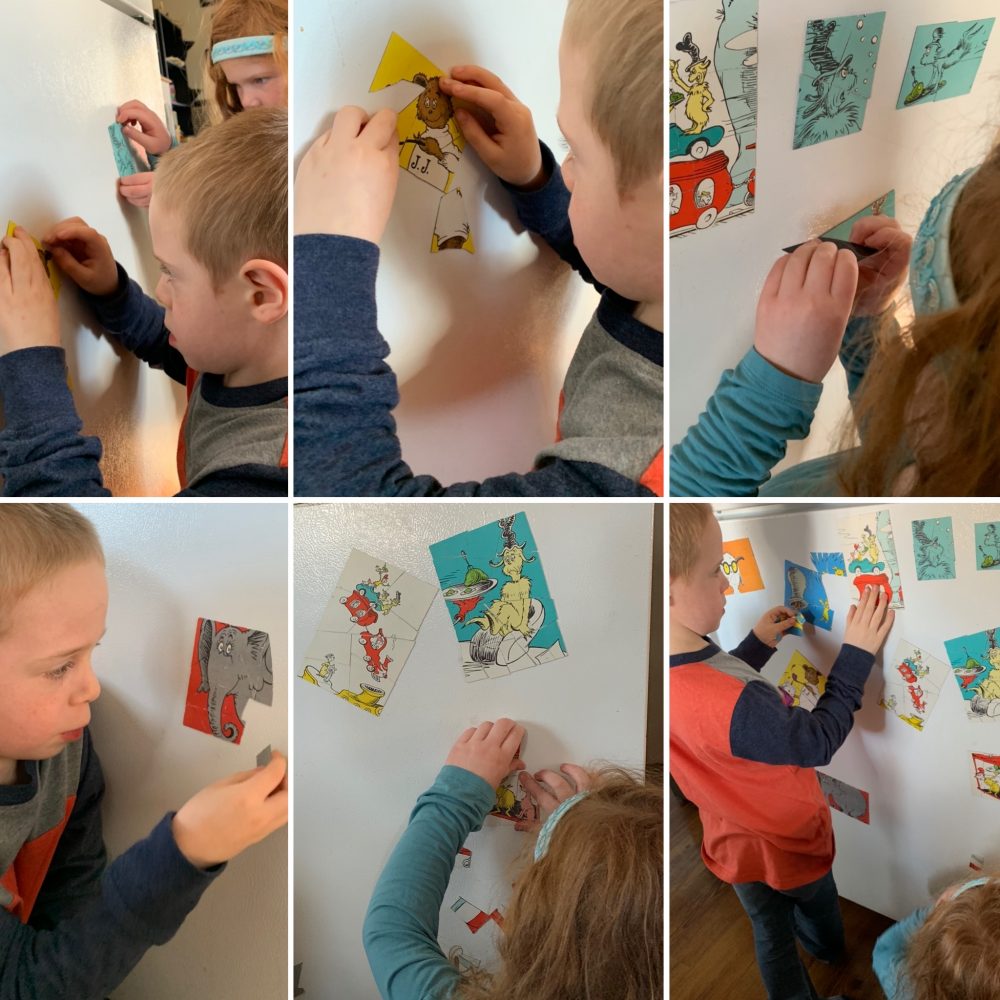 Cat in the Hat: Don't Let the Things Out
Try to find all the sight words without letting Thing 1 and Thing 2 out of the box!
To play, save and print each page below. Laminate for multi-use, if desired.
Fill a gallon-sized Ziplock bag with paint; it needs to be a dark color so you can't see through without squishing it around. (If you'd like to use the paint again, don't worry: you can squeeze it out for later use.)
Tape down whichever page you want your child to work on first, then tape the Ziplock bag over it, but keep the checklist page out to the side. Depending on the page on which they're searching, have them check off the words they find. See how many they can find before accidentally letting loose the Things!
(I got this idea from playdoughtoplato.com, but I expanded it and added a Seuss element.)
Printables found above
Gallon-sized Ziplock bag
Paint (dark color like red or orange)
Masking tape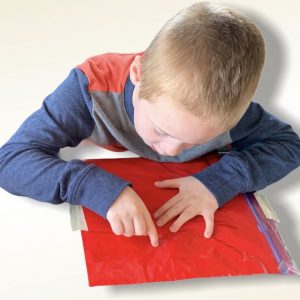 Cat in the Hat Comes Back: Put the Small Cats Back
The small cats inside the Cat's Hat have gotten loose and are wreaking havoc! Set up a string obstacle course by tying string around different objects in a room so they criss-cross like secret agent wires (another way to play this game 😉 ).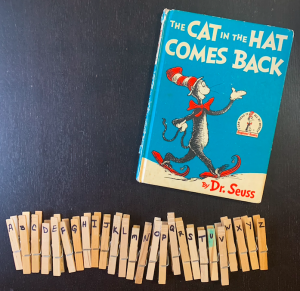 Write the letters of the alphabet on 26 clothespins and clip them randomly on the wires around the room. Have your children climb over and under and through the wires to collect the letters in alphabetical order. It's gonna take teamwork!
26 clothespins
Permanent marker
String (long enough to string around the room)
Fox in Socks: Roll a Rhyme
Roll a Rhyme from thisreadingmama.com. Choose either pictures or words, print the dice, and either fold them or slip them into pocket dice (a highly worthy investment that I strongly recommend! We use them constantly!). Have your child write down the rhyme if they need to practice writing, or simply call it out for younger kids.
Printable: Roll a Rhyme
Tape (if print foldable blocks)
Pocket dice (if cut out just words)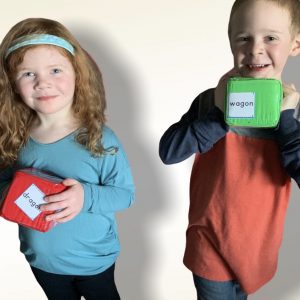 Green Eggs and Ham: Let's Cook
It's really actually very simple to make green eggs and ham, and my kids love it! We usually do green eggs and spam instead; served with some fresh rice makes for a super fun (and easy!) meal.
To dye the eggs and spam/ham, I recommend mixing green food coloring into some water in two bowls, then soak each thing separately in the water briefly before cooking. If you try to dye directly onto the food, you often end up with more of a splattered green look.
You could do this with any color, of course, but to keep in theme with the book, we recommend trying green first! (If you'd like to go dye-free, try using pureed spinach mixed with scrambled eggs! Yum!)
Spam or ham slices
Eggs
Green food coloring (or spinach)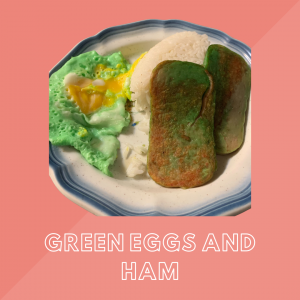 Hop on Pop: Word Families
We used this word family rhyming activity found at thisreadingmama.com. We specifically worked on our short vowel sounds this time around.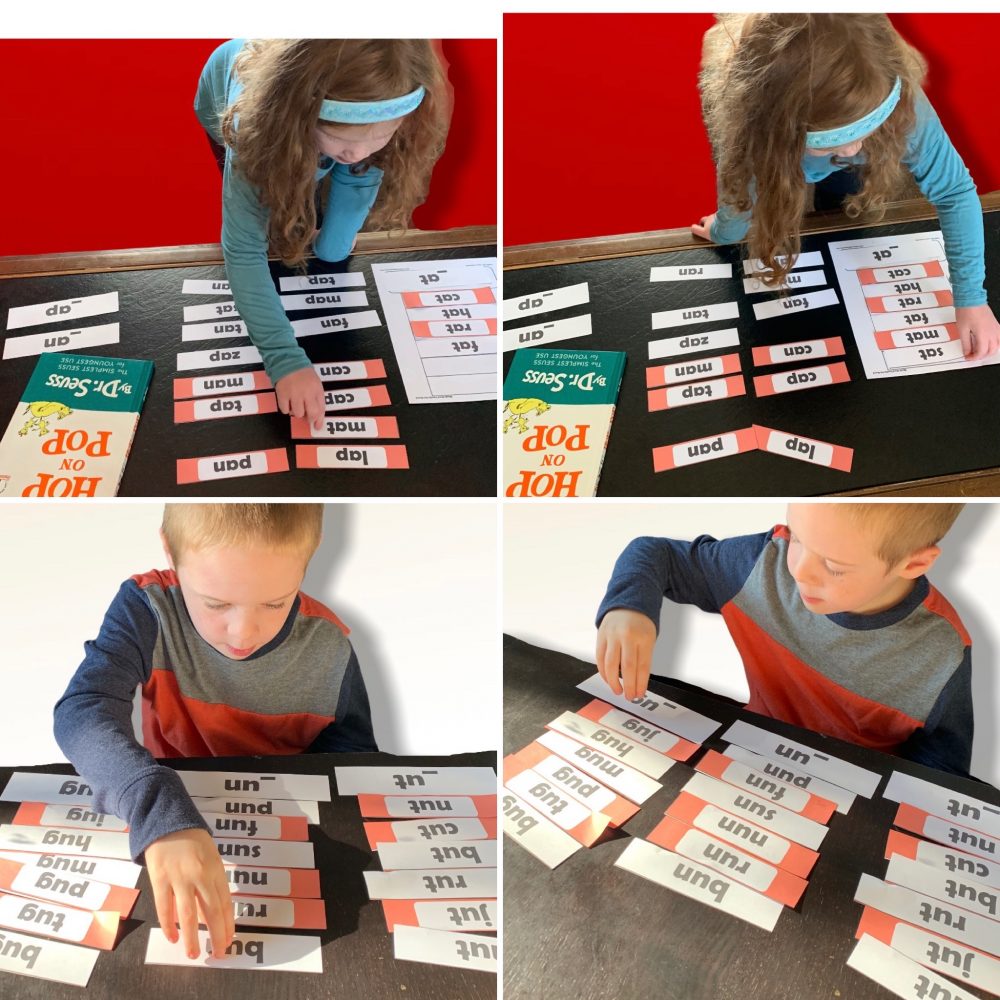 Mr. Brown Can Moo! Can You?
We did these fun worksheets to go with the book found at rockyourhomeschool.net.
Oh, the Thinks You Can Think: Write a Seuss Rhyme
Check out some of the sight words in many of the Dr. Seuss books from Dolch's list of sight words. To find sight words organized by level, look here.
Now have your kids randomly select ten sight words and use them to write a silly Seuss rhyme!
One Fish, Two Fish: Goldfish Graphing
This one does require buying some multi-colored Goldfish crackers ahead of time, but as we usually have those on-hand, it's a good one to have already prepped. Graph your Goldfish using this worksheet from Adventures with Mrs. Meyers at teacherspayteachers.com.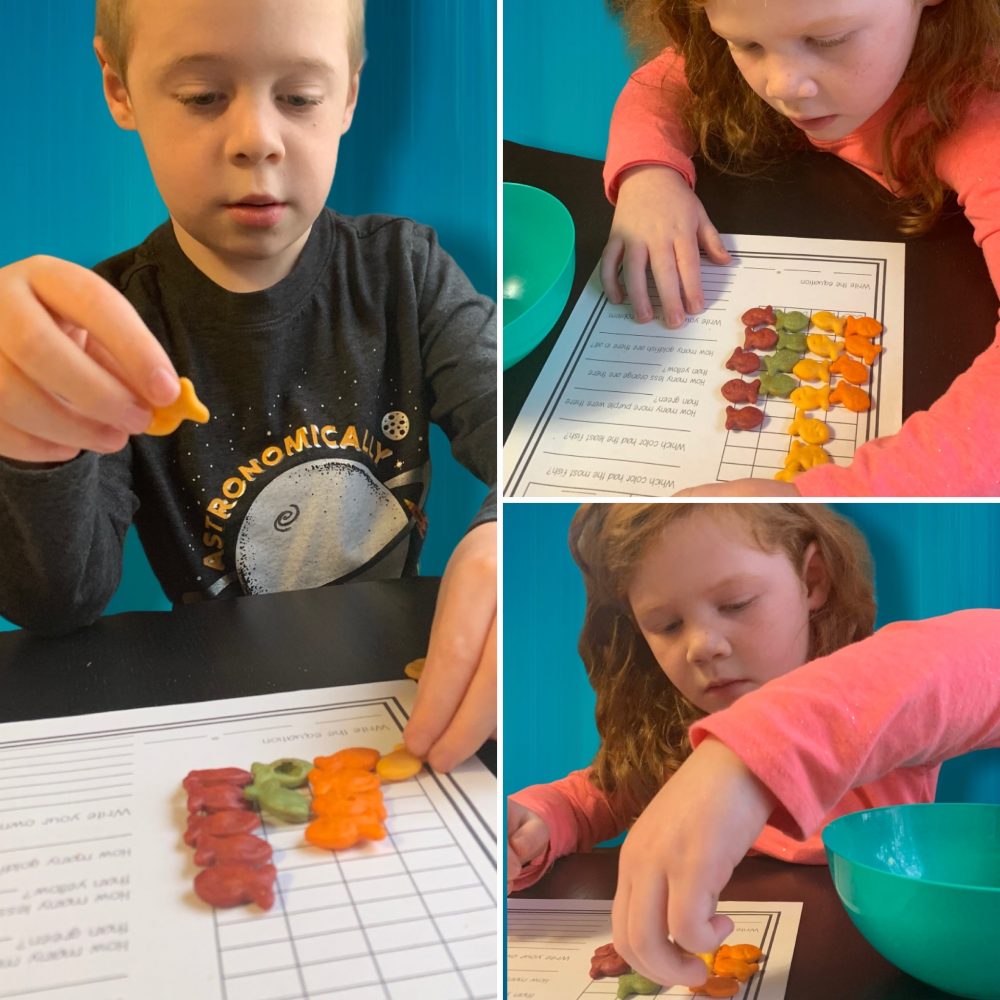 Wocket in My Pocket: Creature Creation
After reading Wocket in my Pocket, have the kids draw silly creatures and place them around the house. If you have more than one child, have them each hide the creatures without the other child knowing where they've been placed. Then play a game of seek and find! When the creature is found, have the child who made them name them according to where they're found! (I got this idea from thisreadingmama.com.)
For example, Blue had a "Z" theme going on with his names: Zidge in the Fridge, Zeddox in the Bread Box, Zink in the Sink, Zumpkin under the Pumpkin, Zlocks in the blocks.
While Bird went for "H" and "W" for her names: Weezer in the Freezer, Hunk in the Trunk, Wok behind the Clock, Willow under the Pillow, Huvvard in the Cupboard.
The kids loved this game so much, they played it again until dinner time! 🙂
Construction paper in many colors
Pencils
Scissors
Yertle the Turtle: Stack the Turtles
Make turtles out of egg cartons and pom-poms and then see how high you can stack them! Instructions can be found here at inspirationlaboratories.com. These turtles turned out SO stinkin' CUTE!
Egg cartons
Pom-poms
Googly eyes
Glue (or have an adult hot glue them together)
Scissors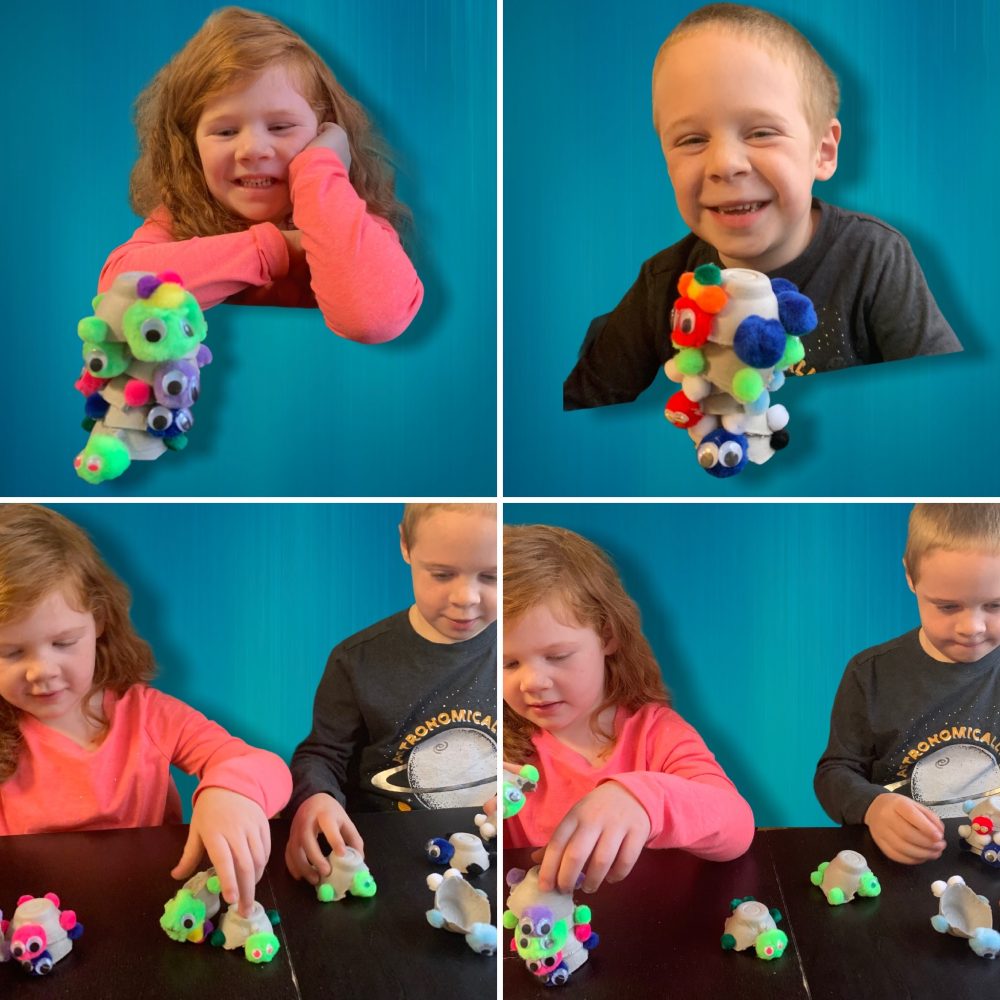 For more Seuss fun, be sure to check out our Pinterest boards! I have lots of pre-planned activities there now!
I hope you found several Seuss-ical ideas for a fun Quest! Let us know what you did in the comments! Be sure to also tag us with pictures you share on Instagram @gamesafootquests. Happy Questing!